Learn more about our fundraiser and how to contribute on Chuffed.
We are an independent socialist magazine
The Philadelphia Partisan is the bimonthly magazine of Philly Socialists. Founded in January 2017, our aims were to report and comment on topics relevant to the struggle of ordinary Philadelphians from a socialist perspective.
Over the course of our short existence, we have grown massively over the course of a few months from 4 pages to 12 pages, and a circulation of 750 print issues.
But we need to be bigger. If we are going to combat the dominant narratives of mainstream media, we cannot rely on mainstream media to write our narratives. We need to support independent socialist media.
A commitment to quality
From the beginning, we have been committed to producing a well-designed product with quality journalism.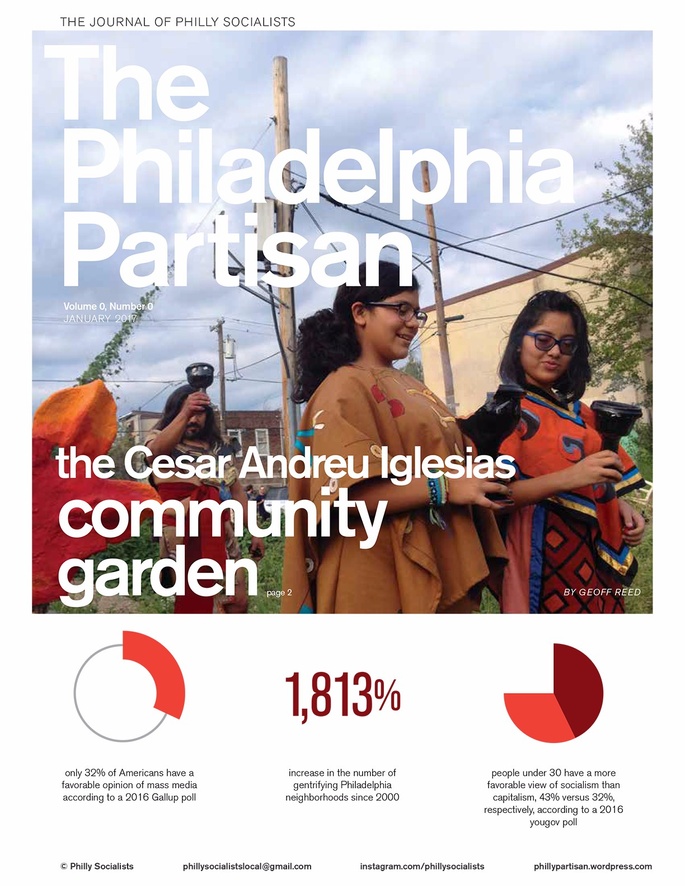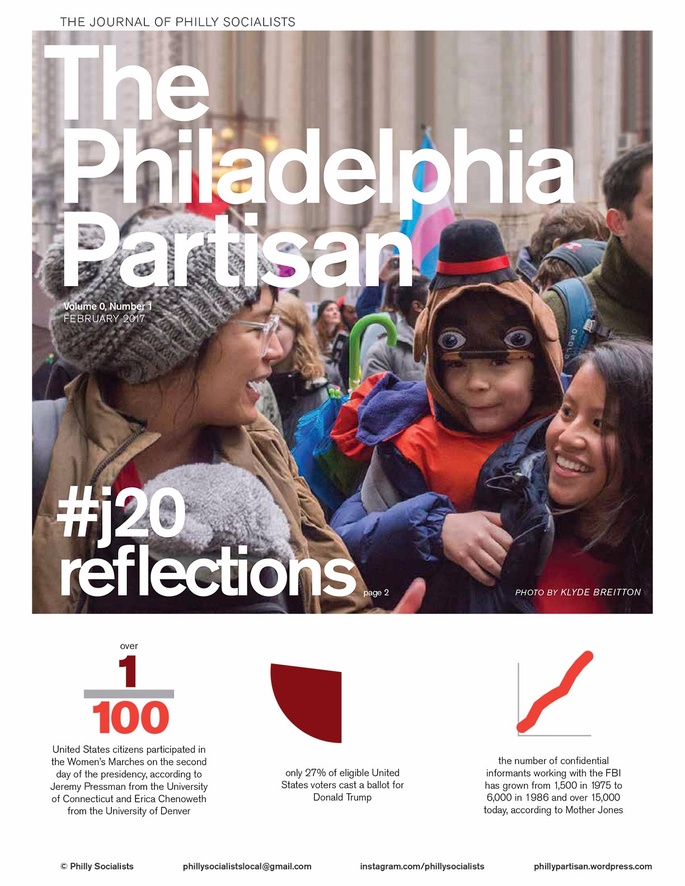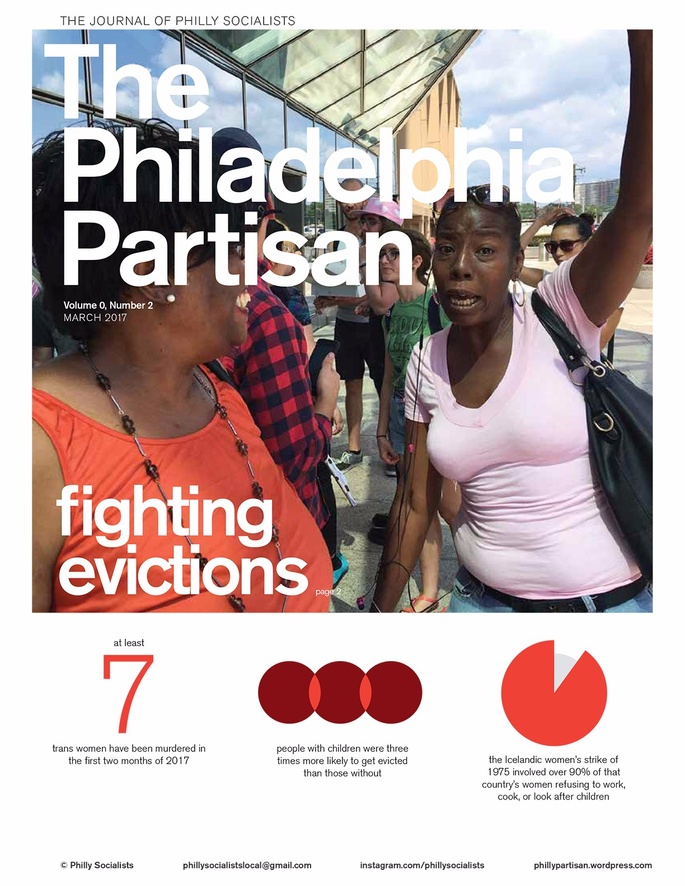 Socialism is not a grey utilitarian dystopia, stripped of art and design. We wanted to produce a product that was as beautiful as the socialist future we envisioned.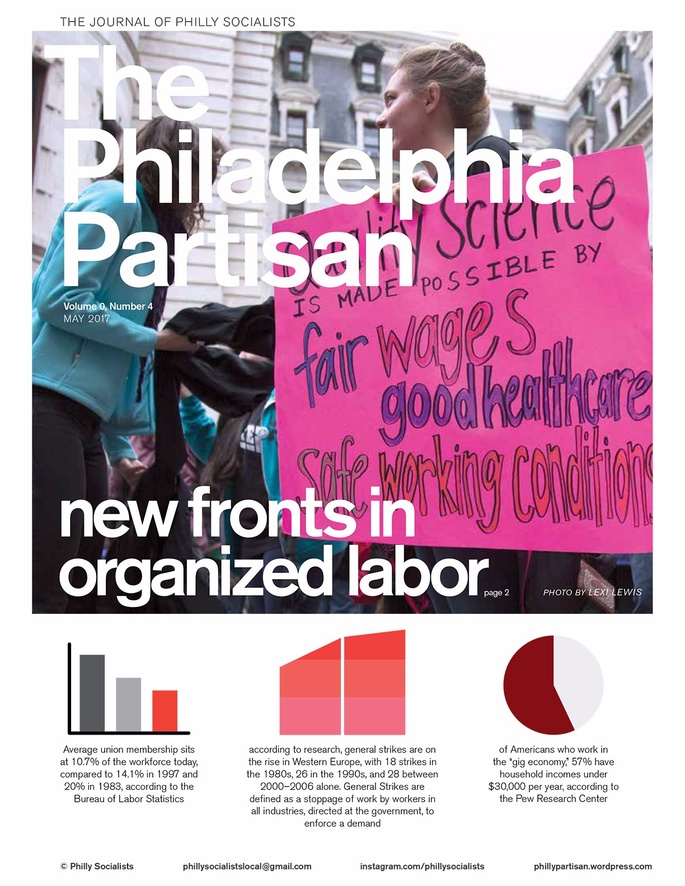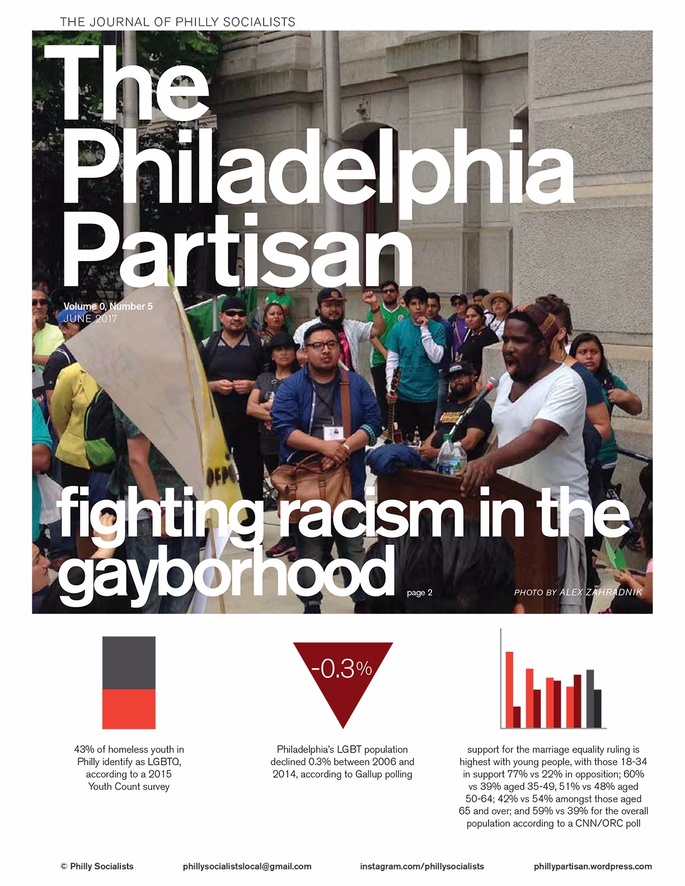 We also wanted to write directly to stories that centered the active role of the working-class, people of color, and other oppressed communities in their struggles. We wanted to write stories that illustrated the density and constancy of struggle within Philadelphia–and pull tangible lessons from those struggles. Here are some of our stories:
Click here to help us continue producing independent, socialist media in Philadelphia.
A magazine for the people
Our subscribers can have a physical copy delivered, or a digital copy emailed to them. However, the vast majority of our magazines are left in public spaces for free.
We are committed to making a beautiful, well-written magazine accessible to all Philadelphians. We have established a distribution strategy with over 40 locations spread over North, West, and South Philly, focusing on the communities who are at the forefront of struggle in Philadelphia.
30 Annual Subscriptions = 1,000 Copies Every Month
We want to take this project even further. We want to enter the next year on stable financial footing, while expanding to 1,000 copies per month.
No one at The Philadelphia Partisan is paid. Every subscription, every cent of donations, goes directly into producing a bigger and better magazine, into more copies and a wider distribution.
Getting to 1,000 copies would mean that we can hit more spots and amplify the voice of the socialist movement in Philadelphia.
At $2,500, we could print 750 copies per month for an entire year (14 annual subscriptions at $15/mo)
At $3,000, we could print 800 copies per month for an entire year (17 annual subscriptions at $15/mo)
At $4,000, we could print 900 copies per month for an entire year (22 annual subscriptions at $15/mo)
At $5,000, we could print 1,000 copies per month for an entire year (28 annual subscriptions at $15/mo)
Click here to purchase a subscription!
Every single donation and subscription counts
If you cannot subscribe at the $15/mo rate, please consider subscribing at the $5/mo student and low-income rate. You will get all the same awesome perks as the $15/mo rate!
If you cannot afford to pay a year's subscription upfront, check out our Patreon! You can pay your subscription month-by-month and still get our awesome magazine delivered straight to your mailbox.
Or make a one-time payment to receive next month's Partisan. We will even send you those sick buttons to say thank you for giving us a try.
If you don't have the money for a monthly subscription, consider just a one-time donation of $1, $5, or $10. Every cent really counts!!!
SICK PERKS
If you donate $7, you will receive a set of three custom-made buttons. We had them designed by The Philadelphia Partisan's Head Designer just for this fundraiser!
If you want to check us out for a month, subscribe for $15 and receive next month's issue. Give us a try and if you support our mission, consider a regular monthly subscription.
If you subscribe for a year, we will send you a limited edition run of Philadelphia Partisan buttons. After all, if you do a good thing (like support independent socialist media) might as well lord it over people, amirite?
For those who subscribe at the sustainer rate, we will not only give you our sick buttons but back issues of all seven of our last publications. Frame them over your mantle and know that you played an important role in the development of socialist media in Philadelphia.
Click here to help the Philadelphia Partisan grow.